Company Provides Wide Range of Applicant and Employee Screenings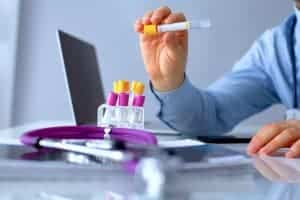 GREEN BAY, Wisconsin – Wisconsin Drug Testing Consortium, a leading provider of applicant and employee screenings for businesses and organizations of all sizes, has updated its website to highlight its wide range of available services at its four locations in Green Bay, Fond du Lac, Sun Prairie and Madison.
Found at widrugtesting.com/, the new Wisconsin Drug Testing Consortium (WDT) website provides business owners and safety/HR managers with a comprehensive look at the company's offerings with more detail and images.
"We have drug testing in our name so people know we do that, but we do a lot more, including comprehensive background screenings and physical capacity evaluations for potential employees," said WDT President Mike Bray. "Our website clearly shows off all our capabilities and how we're an affordable provider to businesses looking to hire the best possible employees."
WDT was established in 2001 as an advocate for small businesses and to serve their drug testing needs. The company specializes in Third Party Administration Consortium Management and offers a variety of drug testing options, including urine, oral fluid, hair and nails. In addition, the company offers training to supervisors on how to spot suspected drug and alcohol use in the workplace and what needs to be documented before ordering any tests. These offerings help businesses stay compliant with DOT rules and regulations regarding drug testing.
The Green Bay business also offers different background screening packages to employers so they can be sure they are making the right choice. WDT provides Department of Transportation and non-DOT physicals and physical capacity evaluations to ensure applicants are physically able to do the job they are being considered for.
Visit widrugtesting.com to find out more about the expanded services offered by Wisconsin Drug Testing Consortium. For more information contact President Mike Bray at [email protected] or call 888-784-8842.
View original post here.