De Pere, Wisconsin, contractor has earned accolades for preservation work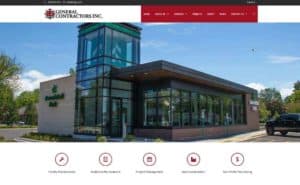 IEI General Contractors Inc., a northeastern Wisconsin leader in commercial, educational and municipal building construction, renovation and remodeling, has released a new version of its website at https://www.ieigc.com/ that features new client projects, updated information regarding its capabilities and customer benefits.
Founded in 1989, IEI General Contractors has forged a reputation as a versatile project manager focused on delivering exceptional buildings on time and within budget targets. In addition to new construction, IEI's expertise in renovation, remodeling and historical preservation sets it apart from many general contractors.
IEI serves as general contractor and self-performs concrete, masonry, carpentry, and other jobs for customers as varied as school districts and municipalities, healthcare organizations and commercial entities.
"As our portfolio of completed projects continues to expand, we realized the need to update our website and provide a clearer picture of our capabilities," explains Mike Johnson, IEI's chairman of the board. "We have come a long way in the thirty years since our founding, but one thing that hasn't changed is our commitment to integrity, excellence and innovation."
While new construction remains the cornerstone of its business model, historical building preservation has become a differentiating area of expertise for IEI. The company has earned a pair of Historical Preservation Awards from the Associated General Contractors (AGC) of Wisconsin in the past three years.
IEI transformed an old Door County highway shop into the new Door County Community Center in Sturgeon Bay to earn AGC of Wisconsin's 2018 award, two years after receiving the 2016 award for its work on renovating and preserving the Chase Stone Barn in Oconto County.
About IEI General Contractors, Inc.
IEI General Contractors is a member of the Associated General Contractors (AGC) of Wisconsin and has more than 30 years in construction service. IEI has a history of making the construction process a pleasant and low-stress experience for stakeholders in any industry. As a premier construction project management firm, IEI is a proven expert in commercial construction and renovation in northeast Wisconsin.
For more information about IEI General Contractors, go to http://ieigc.com/ or call 920-337-2111.
View original article on IEI General Contractors new website here.