Online Catalog Features Hundreds of High-Quality Items Made in the USA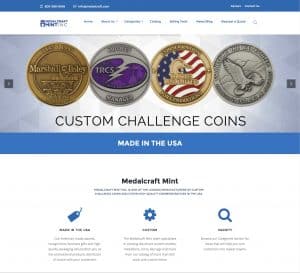 GREEN BAY, Wisconsin – Medalcraft Mint, Inc., a leading American-based manufacturer of custom challenge coins and other high-quality commemoratives, has launched an updated website featuring tools and information designed to support sales professionals who specialize in promotional items.
The new site, found at http://medalcraft.com/, includes an online catalog that describes Medalcraft Mint's complete line of products, as well as a page of frequently asked questions to assist in managing the ordering process.
Medalcraft Mint offers complete in-house design and manufacturing capabilities that ensure each order receives the attention it deserves. The Medalcraft Mint team specializes in creating die-struck custom medals, medallions, coins, key tags and more from a catalog of more than 500 stock and custom items.
"We know it's important for our customers to be able to offer products made in the USA," said Jerry Moran, owner and chief executive officer of Medalcraft Mint. "It's a differentiator that can make the difference in their ability to land an account."
Medalcraft Mint has been a Wisconsin-based company since its founding in 1948. The company produces a wide selection of challenge coins, badges, award recognitions and other commemoratives in its 32,000-square-foot facility in Green Bay, Wisconsin.
"We are honored to have been selected to mint the official inaugural medals for Presidents George W. Bush and Barack Obama, as well as items for the 2002 Salt Lake City Winter Olympics," Moran said. "Made in the USA is a distinction we take seriously."
Call 800-558-6348 for more information about Medalcraft Mint or to request a quote.
View original article here.