Company's Expertise Includes Production of Precision Reverse-Engineered Gears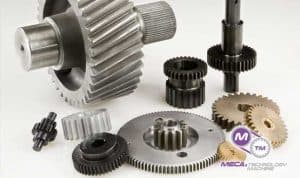 GREEN BAY, Wisconsin – MECA & Technology Machine, Inc. has carved out a niche in producing custom replacement gears that minimize downtime and maximize the lifespan of the machines they power.
"Gears don't last forever, regardless of how much preventive maintenance goes into extending their viability," said Mick Karchinski, Vice President of Sales. "Gears eventually wear down under the constant stress of use and negatively affect productivity."
MECA & Technology Machine is a leader in the production of power transmission components as well as custom replacement gears. The company provides custom and replacement gears ranging from stock designs to rare or unavailable models.
"Our team has the technical expertise to reverse-engineer custom replacement gears when those parts are either unavailable or a costly financial proposition on the open market," Karchinski said. "We use a Coordinate Measuring Machine (CMM) that eliminates human error and enables us to produce these precision parts."
MECA & Technology Machine produces tight-tolerance components for cylinders, engraved rolls, flexographic sleeves and other parts for the flexographic printing and other industries. MECA technicians use customer drawings or prepare CAD drawings, with pre-sale consultation and engineering offered as value-added services.
The company's highly skilled machinists have the expertise to rebuild gear boxes and produce a wide range of gears:
Spur gears
Helical gears
Worm gears
Backlash gear sets
Clutch gears
Cluster gears
Gear segments
Internal spur gears
About MECA & Technology Machine
MECA & Technology Machine Inc. is an innovative manufacturer and engineering provider of tight-tolerance machined components, such as carbon fiber, steel, stainless steel and aluminum cylinders, gears, composite flexographic plate and sleeves, aluminum and carbon fiber anilox sleeves, and mechanically engraved rolls for the industrial, flexographic, coating and converting industries. The company employs more than 50 people at its facilities in Green Bay, Wisconsin.
For more information about MECA & Technology Machine's custom replacement gear manufacturing capabilities, call Mick Karchinski, Vice President of Sales, at (920) 336-7382, or visit https://www.mecagb.com/.
View original post on custom replacement gears here.