MECA & Technology Machine Meets Demand for High-Speed Performance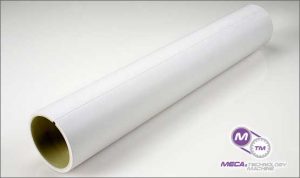 GREEN BAY, Wisconsin – Flexographic printers are leveraging the manufacturing capabilities of MECA & Technology Machine, Inc., for durable flexographic plate sleeves that hold up to the demands of today's high-speed presses.
Constructed of lightweight carbon fiber or composite materials, flexographic press sleeves from MECA & Technology Machine allow press manufacturers the option of using smaller drive motors without sacrificing productivity.
"Our flexographic plate sleeves are designed to retain their rigidity at high speeds, creating a high-quality impression with an attractive return on investment," said Mick Karchinski, Vice President of Sales at MECA & Technology Machine. "The vibration absorption properties of carbon fiber make high press speeds a cost-effective printing option."
MECA & Technology Machine also engineers its flexographic press sleeves for faster changeovers on short runs, resulting in reduced downtime and greater throughputs. The sleeves provide superior quality on a variety of substrates, offering printers the flexibility to maximize productivity regardless of the job.
In addition to standard-size flexographic press sleeves, MECA & Technology Machine has the capability of producing custom sleeves up to 120 inches in length.
MECA & Technology Machine is the only flexographic press sleeve manufacturer in North America certified to offer Variable Sleeved Offset Printing (VSOP) plate and blanket sleeves. These sleeves maintain dimensional stability under heat, humidity and pressure changes.
About MECA & Technology Machine
MECA & Technology Machine Inc. is an innovative manufacturer and engineering provider of tight-tolerance machined components, such as carbon fiber, steel, stainless steel and aluminum cylinders, gears, composite flexographic plate sleeves, aluminum and carbon fiber anilox sleeves, and mechanically engraved rolls for the industrial, flexographic, coating and converting industries. The company employs more than 50 people at its facilities in Green Bay, Wisconsin.
For more information about MECA & Technology Machine's flexographic press sleeves and carbon fiber sleeves, call Mick Karchinski, Vice President of Sales, at (920) 336-7382, or visit https://www.mecagb.com/.
View original post on flexographic plate sleeves, flexographic press sleeves here.