MECA & Technology Machine Offers Alternative to High Capital Cost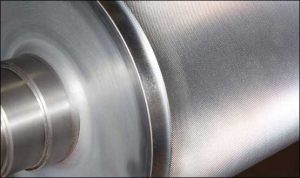 GREEN BAY, Wisconsin – Investing in brand new mechanically engraved rolls isn't always the financial option of choice for companies in the flexographic, coating, industrial and converting industries. That's where the mechanically engraved roll refurbishment services offered by MECA & Technology Machine, Inc. becomes an attractive alternative.
"The demand for mechanically engraved roll refurbishment is growing as companies realize the quality we deliver virtually matches that of higher-cost new rolls," said Mick Karchinski, Vice President of Sales at MECA & Technology Machine. "Savvy customers understand they can leverage our services to maximize their profitability."
MECA & Technology Machine, Inc., a premier producer of high-quality engraved rolls, gears and other power transmission components, has perfected the craft of refurbishing mechanically engraved rolls for a wide range of industrial customers.
"Our refurbishment services are perfect for companies looking to extend the life of their existing mechanically engraved rolls while minimizing capital expenditures," Karchinski said. "Regardless of whether the roll is of stock size or a custom dimension, we have the capability to match an existing engraving or produce a new pattern to a specified coating weight."
MECA & Technology Machine's engraving process is an ideal fit for companies who are moving away from mechanically engraved anilox rolls to ceramic coated rolls that feature fine, laser-engraved patterns.
"We have the largest tooling catalog in the Midwest to match any existing pattern," Karchinski said. "Since we do them in-house, there are no additional markups."
About MECA & Technology Machine
MECA & Technology Machine Inc. is an innovative manufacturer and engineering provider of tight-tolerance machined components, such as spur gears, carbon fiber, steel, stainless steel and aluminum cylinders, gears, composite flexographic plate sleeves and press sleeves, aluminum and carbon fiber anilox sleeves, and mechanically engraved rolls for the industrial, flexographic, coating and converting industries. The company employs more than 50 people at its facilities in Green Bay, Wisconsin.
For more information about MECA & Technology Machine's mechanically engraved roll refurbishment capabilities, call Mick Karchinski, Vice President of Sales, at (920) 336-7382, or visit https://www.mecagb.com/.
View original post on mechanically engraved roll refurbishment here.