IEI General Contractors Preparing De Pere Athletic Complexes For Competition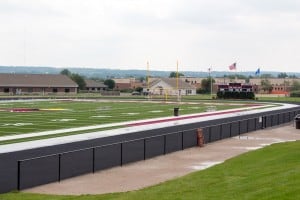 DE PERE, Wis. – IEI General Contractors Inc. anchors a starting lineup of experts that are completing work on a series of athletic field renovations and additions for De Pere High School.
The De Pere-based firm is providing general contracting services, site preparation, concrete and carpentry work for De Pere's football, baseball, softball and soccer facilities.
"We are honored to work on projects that will benefit student athletes in our home city," said IEI chairman Mike Johnson. "These facilities will be among the best in the area, making De Pere High School's outdoor athletic fields the ideal sites for high-level competitions."
Nowak Family Field at De Pere High School will feature a new synthetic turf system by ProGrass LLC of Pittsburgh, Pa., when the football season opens August 22. IEI General Contractors provided the concrete and paver work, and constructed the masonry piers at the stadium's rebuilt main entrance.
The De Pere soccer and softball teams will enjoy brand new facilities next year near De Pere Middle School. The Cloud Family Field will be home for the Redbird soccer teams after a grow-in period this fall. The facility will feature a multi-purpose field in addition to the competition soccer field. IEI General Contractors provided the site and concrete work, including the foundation for a press box.
A new baseball stadium next to Dickinson Elementary School will be ready for play next season after a grow-in period this fall. IEI General Contractors performed the concrete, masonry and carpentry work for the dugouts, along with a press box above the home team dugout. The project also includes multi-purpose and practice fields beyond the outfield fence.
IEI General Contractors is a regional leader in construction project management, employing up to 50 workers from its De Pere, Wisconsin, headquarters. For more information on IEI General Contractors, go to http://ieigc.com/ or call 920-337-2111.
Tags: athletic field renovations, athletic field renovations Wisconsin
To view complete article, click here