Green Bay Locksmith, Jim Majeski, Takes Care of Safes Too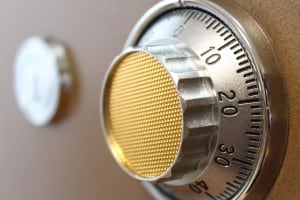 We expect our safes to do just that: keep our belongings safe. Without proper care and maintenance that won't always be the case. Jim Majeski is a fully certified locksmith in Green Bay. As the proprietor of Boss Lock & Security, Jim makes sure your safes and other mechanisms are properly installed.
In addition to proper installation, maintenance is required to ensure continued safety. "Every three to five years, combination chambers need to be cleaned," says Jim. "Sand and grease can jam up locks and cause lockouts or render the locks ineffective."
There are a handful of different types of safes to store your valuables. Mostly, we can break these safes into the categories of fire protection and theft protection. Fire protection safes can be an invaluable safety precaution for families. Irreplaceable objects like photographs are so often lost in fires. Fire resistant safes are able to keep contents at a sub-combustable temperature for intervals of time by controlling the interior environment, giving extra protection against loss of memories.
Theft protection safes tend to focus more on lock security and complexity. Usually made with heavy, thick metal, these safes are meant to keep even the more knowledgeable burglars out. These safes are good for protecting confidential information. When deciding on which safe is for you, be sure to check burglar and fire ratings.
Jim Majeski has been as a locksmith since 1987. He is an insured and registered locksmith as a member of ALOA and SAVTA. In 2010 Jim started his locksmithing business Boss Lock & Security, named after his Saint Bernard, Boss. Just like the Saint Bernard, Jim believes in duty and trustworthiness.
Lock sales, risk assessment on current lock configurations, safe opening, re-combinations, and lock openings and installations are all skills that add to Boss Lock & Security's expertise. Boss Lock & Security, LLC is servicing as a locksmith in the greater Green Bay area. For more information on this Green Bay locksmith, visit BossLockSecurity.com or call Jim (920)619-2540.
View original post here.