Commercial Records Center Inc. Provides Cost-Effective Options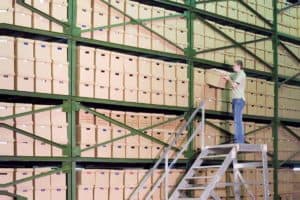 Despite the trend toward digital record keeping in the computer era, records management in paper form remains one of the most cost-effective storage options for many businesses. Commercial Records Center Inc., a locally owned records center and secure destruction specialist, provides off-site records management in El Paso for documents and other physical information assets.
Off-site records storage reduces an organization's exposure to risk while providing an additional layer of protection against theft and other unauthorized access to sensitive corporate and personal information.
"Many of our customers rely on paper documents for a major portion of their information and records storage," said Skip Litt, president of Commercial Records Center. "They realize the importance of off-site records management in minimizing their exposure to disasters such as fire, smoke and water."
Records Management Benefits
Expenses associated with scanning documents into digital form and their subsequent digital storage make paper records management all the more attractive for many businesses and organizations.
Commercial Records Center's investment in facilities and technology remove the need for its customers to devote their own resources to this task. The company's secure facility features 24/7 access capability, supported by proven processes that control access and enhance document location.
"Most organizations simply cannot devote the space required for large-scale, long-term document storage," Litt said. "And if they do, they often have no effective means of quickly locating specific documents in what often becomes searching for a needle in a haystack."
About Commercial Records Center
Commercial Records Center Inc. is a locally owned company specializing in records and magnetic media storage, online data backup, scan-on-demand services, and document and hard drive destruction for customers in the El Paso, Texas, and southern New Mexico area. The company offers mobile paper shredding services for commercial customers as well as shredding for commercial and residential customers at its El Paso location.
For more information on Commercial Records Center's capabilities or to request a quote, go to http://commercialrecords.com/ or call 915-534-3959.
View original post on records management here