IEI Is One of the Premier Construction Contractors in Green Bay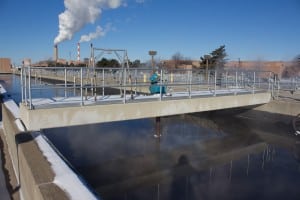 The most important part to managing a water treatment plant project involves thorough planning. As one of the premier construction contractors in Green Bay, IEI General Contractors, Inc. follows a proven process to ensure the successful completion of each project with which it is entrusted.
"Thorough planning begins with open communication between our team and our client," says IEI Chairman Mike Johnson. "Establishing a mutual trust from the beginning helps us meet time and budget targets while working in a safe and efficient manner through the end of the project to the desired result."
Each water treatment plant project begins with an introductory meeting, whether the client is a municipality or a member of private industry. IEI's estimators and project managers discuss job scope, desired outcome, budget, limitations or challenges and other critical aspects of the job. Communication between the architect, client and subcontractors establishes mutual trust that helps IEI meet time and budget targets.
Understanding the scope of the project and goals established by the client allows IEI to make beneficial suggestions around time, budget and safety. The company works diligently to identify any potential issues pertaining to labor, materials and subcontractor availability, which also helps communicate realistic timelines.
With more than 25 years of experience, the IEI team prides itself on creating accurate budgets at the beginning of a project and adjusting accordingly throughout the job. IEI's estimators, project manager, supervisors and field employees are skilled and experienced, and self-perform carpentry, masonry, concrete and other related work. All levels of the management team take pride in the finished project, ensuring the client a quality product.
As one of the premier construction contractors in Green Bay, IEI General Contractors, Inc. is a proven expert in project management for water treatment plants. For more information about IEI General Contractors, go to http://ieigc.com/ or call 920-337-2111.
View original post here.