IEI is a General Contractor in Green Bay That Can Help You Out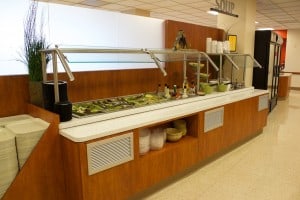 Giving your place of business a fresh look inspires not only potential clients, but employees too. Maybe it is time to bring your business into the 21st century with a state-of-the-art upgrade. IEI General Contractors, Inc. has spent 25 years doing just that.
Over the years this company has done countless projects that involve demolition, concrete pouring, masonry and carpentry. IEI General Contractors has served the hospitality, financial and education industries, just to name a few. This contractor has put a stamp on each industry by providing facelifts to facilities like St. Mary's Hospital Medical Center, De Pere High School and the Associated Bank Corporate Offices.
St. Mary's Hospital Medical Center is Green Bay's only west side hospital, making it a very busy location with continuous growth. In 2012, they called on IEI General Contractors to upgrade. The cafeteria of the facility was out of date and no longer fit to accommodate the growth. IEI brought the facility up to date as well as renovating areas of the hospital's lower level.
De Pere High School contacted their hometown expert for a series of renovations and additions to its athletic facilities. IEI General Contractors provided general contracting services, site preparation, concrete and carpentry work for De Pere's football, baseball, softball and soccer facilities. In 2014, IEI General Contractors provided the concrete and paver work, and constructed the masonry piers at the stadium's rebuilt main entrance.
Associated Bank returned to downtown Green Bay by setting up shop in the former Regency Center. The financial institution relied on IEI General Contractors to remodel the six-story building to meet the company's needs. The six-month project transformed over 100,000 square feet of space without disrupting the daily operations of the bank employees already on-site.
IEI General Contractors, Inc. is a proven expert in renovations and as a general contractor in Green Bay, Wisconsin employing up to 100 workers from its De Pere, Wisconsin headquarters. For more information on IEI General Contractors and its commercial building team, go to http://ieigc.com/ or call 920-337-2111.
View original post here.