Stand Up! Ergonomic height adjustable worksurfaces are a popular choice
There is a growing interest in a new form of ergonomic office furniture – the electric height adjustable worksurface. The easy to operate, electronically controlled surfaces adjust to each employee's personal style of work from sitting to standing during the work day.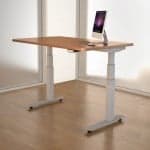 Both health professionals and business cost analysts see the benefits of height adjustable worksurfaces. An individual can vary their posture from sitting to standing, employees report feeling more energetic and productive throughout the day and a company focused on a healthy office environment encourages employee retention. More companies have flex time employees who share workstations and adjustable surfaces let each employee work in a way this is most comfortable for them. Adjustable surfaces save facilities department costs because they don't have to reconfigure a workstation to fit the needs of taller or shorter individuals.
How do our customers use height adjustable surfaces? "We have put sit to stand worksurfaces in executive offices where they fit into the wood finished private office", said Curt Beilke, President of Systems Furniture. "Adjustable surfaces also work well in a call center where employees can change their position while using a computer monitor. Even a fulfillment company uses adjustable tables to accommodate packing staff as they fill orders. We get more requests for adjustable worksurfaces every day."