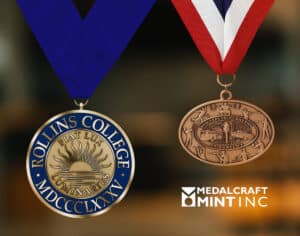 Size, type of metal and finish are all options with custom medals
Custom medals are fast becoming the commemorative of choice for organizations that are looking to separate themselves from the crowd who present only stock medals. Medalcraft Mint specializes in collaborating with customers to create custom medals that deliver superior visual appeal.
Medals can serve as standalone commemoratives, often boxed with appropriate neck ribbons, or as a component in a larger project such as a ceremonial mace. Premium sizes of 2.5 inches or larger and designs accentuated by applications of color enamel are the most popular enhancements for custom medals.
Metal choices include brass, nickel-silver, copper and bronze, along with higher-grade metals when available. The choice of finish gives your custom medals a distinctive looks, particularly when paired with color enamel applications that we can match to PMS colors in your approved palette.
Color enamel adds the extra touch for eye-catching custom medals
The process of creating custom medals begins with our artistic team's production of a design approved by our customer. We engrave the design into die block in advance of completing the die-striking process that imprints the pattern your recipients will see in their medals.
Color enamel is then applied to the design if requested, sealed with lacquer to protect it from damage and ensure the colors remain vibrant over the long term. Our customers are benefitting now from available capacity in our enameling room for faster order turnaround than is possible around the holidays.
The combination of our exceptional customer service, production expertise and simplicity of arranging delivery from our Wisconsin production facility makes Medalcraft Mint a leading source for custom medals for customers throughout the USA.
Medalcraft Mint: The American Way to Mint
Medalcraft Mint Inc. specializes in the design and production of custom medallions, challenge coins, and commemoratives for corporate, education, military, law enforcement, and special event customers. All of our American-made products are manufactured in our Green Bay, Wisconsin, facility to ensure the highest attention to quality with fast and reliable delivery times. MMI is a proud American manufacturer since 1948.
For more information about Medalcraft Mint's products or to request a quote, please go to https://medalcraft.com or call 800-558-6348.
Read the original post on custom medals here.