Locally Owned Company Specializes in Securing Confidential Data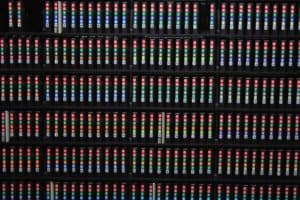 Choosing a specialist in media storage in El Paso comes down to partnering with a trusted provider of off-site storage capabilities supported by proven security practices. Commercial Records Center is that partner for a growing number of companies and organizations throughout the region.
Commercial Records Center has earned a reputation as a leader in media storage services for a wide range of organizations, including non-profits, healthcare, financial services, manufacturing and a variety of small businesses. The company also provides document and hard drive destruction in El Paso.
"The business of providing secure storage of confidential information has expanded greatly since our founding in 1991," said Skip Litt, president of Commercial Records Center. "Our primary focus at that time was document storage and destruction, but we now handle all types of digital and physical media storage and destruction in El Paso."
In addition to storing hardcopy materials in a secure warehouse, Commercial Records Center features a climate-controlled media storage vault to house sensitive materials such as computer tapes, microfilm and x-rays. Constructed of cinderblock and concrete, the walls are lined with fire-rated sheetrock inside a fire-rated (3-hour) door. A gaseous agent containing no oily residue is discharged in the event of a fire, removing all oxygen from the room.
Media Storage in El Paso
Commercial Records Center offers 24-hour accessibility to media and documents for its customers. The company is accredited or holds memberships with the following professional organizations:
AAA Certification with NAID (National Association for Information Destruction)
ARMA International (trade organization)
BBB (A+ rating)
PRISM International (trade organization)
Homegrown El Paso
"As a locally owned company, we are especially motivated to serve as a trusted partner for businesses in El Paso," Litt said. "Our customers want to deal with companies they know and people they can access directly, and we take pride in being there for them whenever they need."
About Commercial Records Center
Commercial Records Center is a locally owned company specializing in records and magnetic media storage, online data backup, scan-on-demand services, and document and hard drive destruction for customers in the El Paso, Texas, area and southern New Mexico. The company offers mobile paper shredding services for commercial customers as well as shredding for commercial and residential customers at its El Paso location.
For more information on Commercial Records Center's capabilities or to request a quote, go to http://commercialrecords.com/ or call 915-534-3959.
View original article on media storage in El Paso here.