Added Security Measures Ensure the Confidentiality of Sensitive Information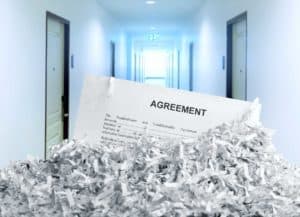 Organizations looking for secure destruction in El Paso know their provider of choice needs to be more than merely a waste disposal company. Commercial Records Center, a locally owned shredding and secure destruction specialist, has processes in place to ensure there are no breaches of sensitive information.
Commercial Records Center holds AAA certification with the National Association for Information Destruction (NAID). The company performs all shredding and destruction services in-house to ensure security procedures are followed to the letter.
"Some shredding vendors outsource aspects of their operations, which could put their customers at higher risk for security compromise," said Skip Litt, president of Commercial Records Center. "We carry professional and liability insurance to protect our clients. Bonding alone is not sufficient."
In addition to document shredding, Commercial Records Center specializes in the secure destruction of digital assets such as hard drives and other physical media. The company's expertise in the destruction industry provides peace of mind for its clients who value attention to detail.
"We take no chances with our customers' information, and that includes the use of closed circuit cameras in our secure warehouse and complete background checks on all our employees." Litt said. "The manner in which we dispose of shredded paper and other media also provides a higher level of security than most destruction providers."
The company uses industry compliant shredders so that the shredded material cannot be read. A conveyor system transfers the shredded material to a baler, and the bales are sent to a recycler for processing. Paper mills then clean the material and use it to make other products.
About Commercial Records Center
Commercial Records Center is a locally owned company specializing in records and magnetic media storage, online data backup, scan-on-demand services, and document and hard drive destruction for customers in the El Paso, Texas, and southern New Mexico. The company offers mobile paper shredding services for commercial customers as well as shredding for commercial and residential customers at its El Paso location.
For more information on secure destruction in El Paso and Commercial Records Center's capabilities or to request a quote, go to http://commercialrecords.com/ or call 915-534-3959.
View original post on secure destruction in El Paso here.