Providing Optimal Security and Peace of Mind, Boss Lock & Security Believes in Doing a Job Right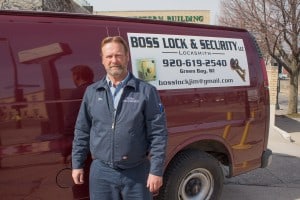 Installing residential locks has been a staple of locksmith Jim Majeski since he began back in 1987. Since then, Jim has expanded his expertise into commercial combination locks and master key systems as an expert locksmith in Green Bay. "We're here to do an honest job," says Jim, "We make sure locks and other security hardware are installed properly so they work properly.
Jim Majeski has been as a locksmith since 1987. In addition to being an insured and registered locksmith, he is also a member of ALOA (Associated Locksmiths of America) and SAVTA (Safe & Vault Technicians Association), both international associations. In 2010 Jim started his locksmithing business Boss Lock & Security, named after his Saint Bernard, Boss. Just like the Saint Bernard, Jim believes in duty and trustworthiness.
"There are many home locks aren't installed properly," states Jim, "People can have a false sense of security that they are safe, when in fact the installation is not correct, which may lead to a potential for failure or a break in. As a local locksmith in Green Bay, I'm here to make sure you and your family are safe."
In addition to residential locks, Boss Lock & Security specializes in commercial safe combination changing and cleaning. Jim expresses, "Every 3 to 5 years, safe components need to be cleaned. Dirt and grease can congest components resulting in lockouts. It's important to keep them clean."
Boss Lock & Security also works on generating master key systems. Master key systems is a computer-generated lock-and-key system. "Many times, improperly cut keys will result in cross-keying. This is where a key can end up opening multiple locks, even ones they aren't intended to! These computer-generated systems prevent that."
Boss Lock & Security, LLC is servicing as a locksmith in the greater Green Bay area. For more information visit BossLockSecurity.com or call Jim (920)619-2540.
View the original post at Boss Lock & Security