Keep Your New Year's Resolution with Fitness Apps on a New Samsung Phone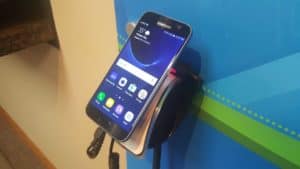 Start your year off right with great deals on great products at BAYCOM Cellular, your center for Samsung phones in Green Bay. Come in to one of our two Green Bay locations to have your plan reviewed for free and learn about the upgraded cameras featured in the new Samsung phones.The new line of Samsung phones also work perfectly with fitness apps for the person on the go.
"This is a perfect time to make good on New Year's resolutions and upload some fitness apps to a new Samsung phone," said Sam Colucci, Retail Sales Manager at BAYCOM Cellular. "Our customer service professionals can help you select the right Samsung phone and teach you how to use it."
The most popular Samsung phones this season are the Galaxy S7, which features a 5.1-inch display, and the Galaxy S7 edge, featuring a 5.5-inch dual edge display. Both models have a certified water-resistant rating. They repel spills, splashes and accidental dunks without the need for a bulky protective case.
The new Samsung phones have the first smartphone cameras with Dual Pixel technology. The incredibly fast autofocus captures the most sudden movements, even in low light, producing photos that are sharp and detailed.
BAYCOM Cellular is a Cellcom Five Star Agent, which means customers have access to Samsung phones in Green Bay and all of Cellcom's products, including 4G nationwide network and exceptional Northern Wisconsin coverage that is available through Cellcom stores in Green Bay.
The Cellcom Five Star Agent designation means Cellcom views BAYCOM Cellular as one of the best dealers that represents its brand based on sales volume and services offered.
The featured promotion for January is the Double your Dollars sale
Put $50 down (or more) and receive $50 from Cellcom when purchasing a device with a Flex agreement. Plus, save $150 with a Flex agreement or $50 on a 2-year agreement when purchasing a new Samsung Galaxy S7, Samsung S7 Edge or LG V20. BAYCOM Cellular will continue to offer the up to $500 contract buy out with device trade in.
BAYCOM Cellular Retail Locations
BAYCOM Cellular has two retail locations in Green Bay, Wisconsin, at 2040 Radisson Street on the east side and 1241 Lombardi Access Road on the west side. Both locations carry all the latest cell phone models, cellular tablets and other mobile devices, with set-up and training available as needed.
For more information about BAYCOM Cellular products or to request a rate plan analysis, visit http://baycomcellular.com or call 800-726-5426.
View original article on Samsung phones in Green Bay here.