Continuous Evolution of Motorola Solutions Digital Radio Technology Transforms Business Communications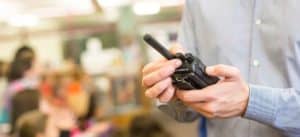 Two-way radio technology has evolved substantially over the past few years as digital capabilities transform business communications. Team Communications from Motorola Solutions, provided statewide by BAYCOM, addresses the challenges of communicating across a variety of user devices.
The transition from traditional analog walkie-talkies to digital platforms has changed how team members communicate with each other. Organizations are moving toward unified communications to leverage the variety of devices and methods used to stay in touch by an increasingly mobile workforce.
"There is a common misconception that two-way radios are an antiquated technology that has been replaced by smart phones and related applications. The truth of the matter is that the digital radios of today outclass smart phones on a variety of dimensions including coverage, audio quality, noise suppression, durability, battery life and safety features," said Rob Dillon, executive vice president at BAYCOM, a premier service provider of Motorola products. "Motorola's portfolio of digital radios continues to play an indispensable role for countless end users focused on enhancing the quality and safety of their operations through better communications."
Research Supports Expansion of Two-Way Radios
Team communications play a critical role in getting things done as well as providing an additional level of safety. Motorola and Gartner, industry leaders in extending unified communications to the industrial space, collaborated on a long-term study that shows how workers are using emerging technologies to communicate instantly, regardless of their location.
The research shows companies are relying on two-way radios and other unified communication tools to maintain common group definitions, leverage centralized location management, prioritize messages, and provide secure channels across multiple networks, devices and applications.
In addition to person-to-person communications, critical information also arrives directly from equipment, providing team members with alerts and data that impact decision making and actions.
"The report provides valuable insight into the ways businesses are leveraging Unified Communication and Collaboration (UCC) to meet the growing demands of operations," Dillon says. "The need to connect employees regardless of device or location is greater today than ever."
Use BAYCOM's special code (bayc0224) to download this research and learn how it can benefit your company.
About BAYCOM
BAYCOM is an affiliate company of OwnersEdge Inc., a 100 percent employee-owned ESOP holding company. Based in Green Bay, Wisconsin, the company delivers industry-leading communications and video solutions that help public safety organizations and commercial customers operate safely and with maximum efficiency. BAYCOM serves customers in Wisconsin and throughout the Midwest through certified service center locations in Green Bay, Fox Crossing, Pewaukee, Portage, Madison and La Crosse, Wisconsin. Visit http://www.baycominc.com/ or call 800- 726-5426 to learn more about BAYCOM.
View original post on two-way radios here.