De Pere Company is a One-Stop Shop for Fabrication in Wisconsin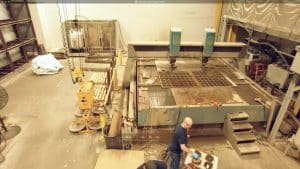 DE PERE, Wisconsin – Robinson Metal, Inc. leverages the advantages of water jet cutting capabilities in its role as a single-source supplier of fabrication services for customers throughout Wisconsin and the United States.
Water jet cutting features a technologically advanced tool that uses a high pressure stream of water to cut a narrow line in virtually any material, including heavy metal stocks.
"Water jet cutting technology helps us provide the highest quality finished products for our customers," said Jamie Tilkens, Fabrication and Machining Division Manager at Robinson Metal. "We are able to minimize the need for secondary finishing processes with the superior edge quality created using water jet cutting practices. It's another way we can serve as a single-source supplier for our customers."
The cold water temperatures used in water jet cutting eliminates the risk of materials becoming burned, melted or cracked. The process also ensures warping, surface hardening or other undesirable results common with hot, friction-based cutting methods do not occur. Robinson Metal technicians can make adjustments to the water jet stream and use of abrasives to attain the most cost-effective cutting speeds.
"Water jet cutting offers the additional benefit of being a cleaner method of cutting," Tilkens said. "In most cases, the process does not create metal grindings or chips, and hazardous gasses are not released. We do not need to use cutting oils, and the narrow cutting width makes the most out of the valuable raw materials."
About Robinson Metal, Inc.
Robinson Metal operates out of a custom-designed, 175,000-square-foot modern facility that also features a segregated stainless steel fabrication area. The company is a single-source metal fabrication supplier, employing approximately 300 people at its facilities in De Pere, Wisconsin. Its four divisions include: Fabrication Machine; Pipe and Vessel; Robinson Custom Enclosures; and Robinson Heating and Cooling.
For more information about Robinson Metal's water jet cutting capabilities, please call (920) 494-7411, or visit http://robinsonmetal.com/.
View original post on water jet cutting here.