BAYCOM Works With Agencies to Ensure Premium Field Performance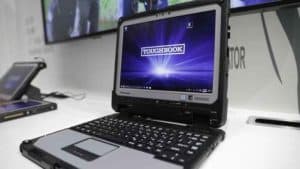 Panasonic's well-earned reputation for delivering laptops tough enough to withstand the extreme conditions faced by law enforcement, emergency services and other external professionals just got a boost with the release of the Panasonic Toughbook® 33, available now from BAYCOM, an authorized Panasonic reseller.
The Panasonic Toughbook 33 offers the versatility of operating as a laptop or tablet, with the updated functionality of a 3:2 display and the Windows® 10 operating system. The Toughbook 33 comes with a detachable Premium Keyboard for those looking for the flexibility of a 2-in-1, but can also be purchased as a tablet only.
"The Toughbook 33 is, without a doubt, the most impressive field unit Panasonic has ever developed," says Tim Cooney, Panasonic product line manager for BAYCOM. "Every detail, down to the hot swappable battery system that allows the user to pop in a fresh power pack without turning off the computer, has been designed for top performance."
Panasonic Toughbook 33 Seamlessly Adds to Product Line
Panasonic offers standard batteries with 10 hours of life as well as long life batteries for up to 20 hours of use. The Panasonic Toughbook CF-33 features a brighter 12-inch screen for ease of viewing in outdoor settings. Users can log in quickly and securely with Windows Hello using the unit's infrared webcam with facial recognition or fingerprint reader.
Panasonic kept its large customer installation base of Toughbook 31 vehicle docks in mind by offering a drop-in-replacement 31 Vehicle Dock Adapter (VDA) with removable Lite Keyboard.
BAYCOM Specializes in Public Safety Technology
BAYCOM has extensive experience in the public safety sector, having been awarded the Wisconsin State Contract every year for more than a decade on products including:
Panasonic Toughbooks®
Arbitrator in-car and body-worn video
Docking stations
Mounting solutions
"Helping law enforcement agencies keep our communities safe and connected is a responsibility BAYCOM takes very seriously, today more than ever," Cooney says. "As an established expert in law enforcement technology, public safety organizations know they can rely on support from our own highly trained, certified service team."
About BAYCOM
BAYCOM is an affiliate company of OwnersEdge Inc., a 100 percent employee-owned ESOP holding company. Based in Green Bay, Wisconsin, the company delivers industry-leading communications and video solutions that help public safety organizations and commercial customers operate safely and with maximum efficiency. BAYCOM serves customers in Wisconsin and throughout the Midwest through certified service center locations in Green Bay, Fox Crossing, Pewaukee, Portage, Madison and La Crosse, Wisconsin. Visit http://www.baycominc.com/ or call 800- 726-5426 to learn more about BAYCOM.
View original article on Panasonic Toughbook 33 here.