Commercial Records Center is a Trusted Local Shredding Provider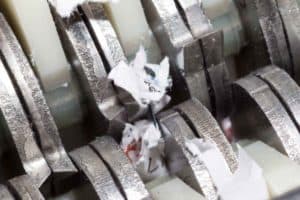 Shredding services vary in the degree to which they provide secure destruction for sensitive documents. Companies and organizations know they can trust Commercial Records Center for certified shredding in El Paso, Texas.
Commercial Records Center provides premier certified shredding services with the benefits that come with using a locally owned document and media destruction company in El Paso.
"We have taken steps to ensure the privacy of our customers," said Skip Litt, president of Commercial Records Center, which holds AAA certification from the National Association for Information Destruction (NAID). "In addition, we recognize that bonding alone is not enough. We carry professional and liability insurance that enhances protection for our customers."
Certified Shredding Maximizes Security
Organizations depend on certified shredding services from Commercial Records Center to safeguard corporate and personal information that can include Social Security and bank account numbers, birthdates, names, addresses and other data that could lead to identity theft.
Businesses of all sizes, financial services companies and non-profit organizations ranging from healthcare providers to insurance companies entrust their shredding needs to Commercial Records Center. Residential and walk-in customers are welcome to stop in at the company's El Paso office, conveniently located with easy freeway access at 205 Ange St.
"We stake our reputation on the security of our customers' information," Litt said. "Certified shredding and media destruction services are crucial components of a comprehensive corporate security policy."
About Commercial Records Center
Commercial Records Center is a locally owned records management company specializing in records and magnetic media storage, online data backup, scan-on-demand services, and document and hard drive destruction for customers in the El Paso, Texas, and southern New Mexico area. The company offers mobile paper shredding services for commercial customers as well as shredding for commercial and residential customers at its El Paso location.
For more information on Commercial Records Center's capabilities or to request a quote, go to http://commercialrecords.com/ or call 915-534-3959.