Enjoy a reliably comfortable indoor environment all year round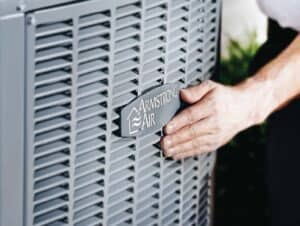 The importance of regular HVAC maintenance in keeping your home comfortable and energy-efficient shines through in optimal performance and system longevity. The HVAC maintenance experts at Robinson Heating & Cooling visit homes in northeastern Wisconsin throughout the year to keep heating, ventilation and air conditioning systems ready for whatever Mother Nature throws at us.
Keeping your HVAC system in good working condition lets you enjoy consistent and reliable temperature control. Just as important, you can avoid the unexpected breakdowns that seemingly are most likely to occur during extreme weather conditions or holiday weekends.
Our professionals inspect and clean vital components such as filters, coils and ductwork during HVAC maintenancevisits. Dirty filters, clogged coils or malfunctioning components can force your system to work harder and consume more energy. Your heating and cooling systems share some components in their operations, meaning this important aspect of home maintenance can impact your comfort any time of year.
Prolong your system's lifespan with regular HVAC maintenance
Identifying potential problems before they appear is the best way to get the most out of your home comfort systems. We recommend annual HVAC maintenance appointments in the fall for your heating system and in the spring for your air conditioning system, however the heating and cooling system maintenances can be done at the same time if preferred.
Proper airflow reduces strain on your system and ensures efficient heating and cooling. Generally speaking, HVAC maintenance can help you postpone furnace or air conditioning replacement for a good 15 years. Many of our customers added a whole house air purifier this year to remove contaminants such as wildfire smoke.
Keeping your systems in good working order helps you lower your utility bills and reduce your carbon footprint while enjoying a comfortable indoor environment. Contact Robinson Heating & Cooling today to schedule your next HVAC maintenance appointment.
Robinson Heating & Cooling, LLC; More than 45 years of HVAC experience
Robinson Heating & Cooling has been serving Northeast Wisconsin since 1975. As the region's trusted source for residential and commercial HVAC services, Robinson Heating & Cooling repairs most makes and models of heating and cooling equipment in addition to installing new equipment from leading brands. Our retail store and offices are located at 1649 Sand Acres Drive in De Pere, Wisconsin.
Visit https://robinsonheatingcooling.com or call 920-490-3394 for a consultation or to schedule an appointment.