Commercial Records Center Renders Digital Data Inaccessible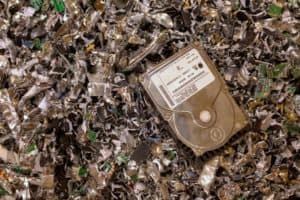 The security of digital assets requires both online and offline procedures to protect sensitive information. Commercial Records Center helps companies and organizations with the offline component of data security in its role as a leading provider of hard drive destruction in El Paso.
Commercial Records Center, known throughout the region as the leader in records storage in El Paso, provides peace of mind regarding hard drive destruction through its AAA certification with the National Association for Information Destruction (NAID).
"The security of your digital information does not end when you get a new computer," said Skip Litt, president of Commercial Records Center. "It is critical to properly render hard drives inaccessible after they are taken out of use, and we have the technology to ensure that happens."
In many ways, electronic information is at greater risk than traditional paper documents when it comes to long-term security. Commercial Records Center uses state-of-the-art hard drive destruction machinery that virtually eliminates the risk of prying eyes gaining access to the information contained in retired computer assets.
"We will provide a certificate of destruction that lists the serial numbers of all hard drives we destroy for your organization to assist in your record keeping," Litt said. "The last thing you want to worry about is whether or not the information on your old hard drives really is destroyed."
About Commercial Records Center
Commercial Records Center is a locally owned company specializing in records and magnetic media storage, online data backup, scan-on-demand services, and document and hard drive destruction for customers in the El Paso, Texas, area and Southern New Mexico. The company offers mobile paper shredding services for commercial customers as well as shredding for commercial and residential customers at its El Paso location.
For more information on Commercial Records Center's capabilities or to request a quote, go to http://commercialrecords.com/ or call 915-534-3959.
View original post on hard drive destruction here.