Conveniences Include Easy Freeway Access and Mobile Shredding Truck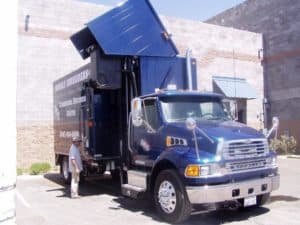 EL PASO, Texas – Convenient access and dependable performance have made Commercial Records Center Inc. the leading provider of document destruction in El Paso.
Commercial Records Center is a locally owned company that serves institutional, business and individual customers with a range of document destruction, records storage and cloud back-up services.
"Our mobile shredding truck can perform shredding tasks at a customer's location or back at our secure facility," said Skip Litt, president of Commercial Records Center. "Walk-in access at our El Paso location has become a popular option for document destruction among residential customers."
Commercial Records Center offers convenient freeway access at its El Paso location, 205 Ange St. In addition to document destruction, the company provides hard drive destruction services using specialized equipment.
"Paper document destruction is only part of the equation in today's digital environment," Litt said. "Our customers depend on us to securely and cost-effectively transform all of their physical storage assets into unreadable waste."
Institutional and commercial customers can schedule Commercial Records Center's mobile shredding truck to stop at their locations on a scheduled basis to systematically complete document destruction services. All shredded paper is recycled to minimize the impact on the environment.
Commercial Records celebrated its 20-year anniversary of serving customers in October 2016. It also expanded its capabilities with the acquisition of El Paso Shred Corp., an El Paso shredding company.
About Commercial Records Center
Commercial Records Center Inc. is a locally owned company specializing in records and magnetic media storage, online data backup, scan-on-demand services, and document and hard drive destruction for customers in the El Paso, Texas, are and Southern New Mexico. The company offers mobile paper shredding services for commercial customers as well as shredding for commercial and residential customers at its El Paso location.
For more information on Commercial Records Center's document destruction in El Paso capabilities or to request a quote, go to http://commercialrecords.com/ or call 915-534-3959.
View the original article on document destruction in El Paso here.