Christmas Deals, Phones and Tablets from Cellcom Coming Soon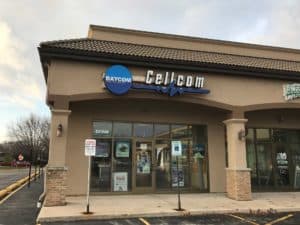 GREEN BAY, Wisconsin – BAYCOM Cellular, a Cellcom Five Star Agent, has ramped up its inventory of the world's most popular brand names and models in advance of offering customers great Christmas deals on phones and tablets.
With two locations, BAYCOM Cellular offers convenient access to all of the products and 4G nationwide network that is available through Cellcom stores in Green Bay.
"The difference is in our highly trained sales representatives and the exceptional customer service they provide," said Sam Colucci, Retail Sales Manager at BAYCOM Cellular. "Our team takes the time to help you select the ideal phone or tablet from our complete line of products so you can give the perfect gift."
BAYCOM Cellular kicked off the holiday season with free phones with a cellular plan as part of its Fall Specials and Black Friday deals. BAYCOM Cellular customers have access to the same exceptional Northern Wisconsin coverage that is available through Cellcom stores in Green Bay.
The Cellcom Five Star Agent designation means Cellcom views BAYCOM Cellular as one of the best dealers that represents its brand based on sales volume and services offered. That's important as you decide where to shop for phones and tablets this holiday season.
"BAYCOM Cellular offers a variety of in-person and online resources aimed at making it easy to get help whenever needed for you or the person on your gift list," Colucci said. "It's why people trust us for the best value every Christmas season."
(Photo shot on 128G iPhone 7)
December promotions include:
Bonus Data: 5 GB of FREE Data on our 10GB and 15GB tiers. LG Device Discounts on the LG G5 ($19.95 with two year agreement or $150 off with a Flex Agreement), LG V10 ($99.95 on 2 year agreement or $150 off with a Flex Agreement) and LG V20 ($149.95 with two year agreement or $150 with a Flex Agreement). Receive a Cam 360 ($199 value) with the purchase of a LG V20 or a Cam Plus ($69 value) with the purchase of a LG G5. Plus, a $50 Shell Gas Card with Delphi purchase.
Additional tablet and smart phone bundles (call or ask in-store for details for these non-Android devices).

BAYCOM Cellular Retail Locations
BAYCOM Cellular has two retail locations in Green Bay, Wisconsin, at 2040 Radisson Street on the east side and 1241 Lombardi Access Road on the west side. Both locations carry all the latest cell phone models, cellular tablets and other mobile devices, with set-up and training available as needed.
For more information about BAYCOM Cellular products or to request a rate plan analysis, visit http://baycomcellular.com or call 800-726-5426.
View original post on Cellcom stores here.