Leader in Amusement Gaming Machines Offers Custom Capabilities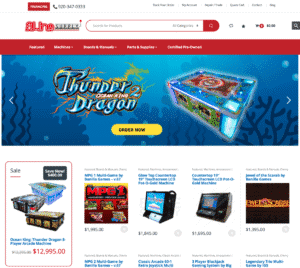 8 Line Supply, the leading distributor of gaming, amusement and coin-operated machines and accessories, has launched an updated website that features the company's custom development capabilities as well as stock supply options.
The updated site, found at http://www.8linesupply.com, includes an easy-to-navigate menu with premium new and certified pre-owned machines and accessories. Customers can place orders through the website, call 8 Line Supply directly at 920-347-0333, or visit the company's retail location at 1755 E. Matthew Drive in De Pere, Wisconsin.
"Unlike some of our competitors, you always have the option of speaking with an actual human being at 8 Line Supply," said Matt Murphy, Sales Manager. "Superior customer service differentiates our company from our competition and is a major reason why we have a high percentage of repeat business."
8 Line Supply's development expertise includes working with customers to build custom features ranging from graphics through complete gaming systems that comply with jurisdictional requirements. The company's experienced technicians also are available to repair existing gaming equipment anywhere in the continental United States.
In addition to amusement gaming machines, 8 Line Supply provides a full line of accessories including touchscreens, lighting, bill and coin acceptors, LCD monitors, game boards, wire harnesses and more for customers throughout North America and around the world.
"We function as a single-source supplier for virtually every aspect of gaming, amusement and coin-operated machines," Murphy said. "If you can't find what you're looking for on our website, contact us and chances are, our highly experienced team can locate a quality machine or component to meet your needs."
About 8 Line Supply
8 Line Supply, based in De Pere, Wisconsin, specializes in creating unique and exciting gaming machines as well as supplies, parts and service for amusement games of all types. This includes the most popular games and brands on the market such as Cherry Master / 8-Liner, Pot-O-Gold, Astro, Banilla Games, IGS, Subsino, AMCOE, Borden, Dyna, Cyberdyne, PAL, and others.
For more information call 920-347-0333 or visit http://www.8linesupply.com.
View original post on 8 Line Supply updated website here.