New equipment helps increase bonding strength in hot melt lamination
GREEN BAY, Wis. – Commercial adhesive laminating specialist Tufco Technologies Inc. introduces the addition of an integrated pre-heating process that improves the bond strength with certain substrates.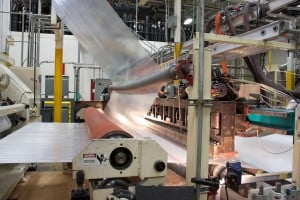 Tufco's ability to preheat materials prior to completing the hot melt laminating process generates enhanced adhesion and reduced adhesive add-on rates. This results in a more economical commercial adhesive laminating capability on substrates up to 120 inches in width.
Tufco is an award-winning supplier of wide web flexographic printing and adhesive laminations. The company creates cost-effective solutions for its customers at operations in Green Bay, Wis., and Newton, N.C.
For more information on Tufco's hot melt laminating capabilities, contact:
John Michaud
Vice President, Sales and Marketing
Tufco Technologies, Inc.
www.tufco.com
P. O. Box 23500
Green Bay, WI 54305-3500
(920) 336-0054
336-9041 (Fax)
Tags: hot melt laminating, personal care wipes manufacturer, hot melt lamination, adhesive lamination