ARMS Inc. Helps Companies Make Efficient Choices in Going Paperless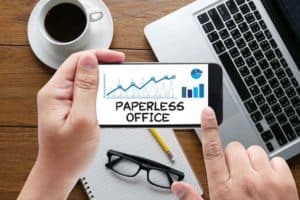 Companies moving toward creating a paperless office are looking to ARMS, Inc. for expertise in developing systems that are secure as well as digitally accessible.
Going paperless is an increasingly common business goal as organizations attempt to streamline on-site or off-site storage issues for hard copy documents and create easier access to information. While seemingly straightforward in nature, creating a paperless office requires strategic thought for long-term success.
"Defining organizational objectives that underlie the desire to develop a paperless office is the first step in the transition process," says Eric Haas, president and CEO at ARMS, one of the leading information management and shredding companies in Appleton and Green Bay. "Identifying specific challenges they are having helps us determine specific actions that can help our customers accomplish their goals."
Paperless Office Requires Management Controls
Hard copy documents bring limitations in terms of effective use within an organization. That is why companies are leveraging digital solutions to eliminate challenges ranging from sharing limitations in the short term to storage and location issues in the long term.
"Today's decision makers require information at their fingertips, regardless of whether they are in the office or sitting in an airport halfway around the world," Haas says. "Paperless environments in this age of increasing digital theft require management controls that go beyond having PDF files on a network server."
ARMS focuses on helping its customers reduce the amount of printing and filing of records that are internally produced as well as received from external sources such as vendors and customers.
Components to an effective paperless office may include:
Centralized repository
User controls and access
Shared permissions / security audit trail
Enhanced naming / categorization for improved search and retrieval
Retention management work queues to address risk management
Defined document workflow for escalations and approvals
Contact ARMS today to learn how transitioning to a paperless office can provide efficiency benefits for your organization.
Full-Service Information Management and Destruction Services
ARMS is an industry leader in records and information technology solutions, providing organizations "best practice" consulting in the Green Bay, Wisconsin, area and across the United States. ARMS is an SSAE 16-audited company that meets today's information regulatory requirements such as HIPAA, HITECH and FACTA. Services include traditional document storage, certified information destruction, data protection and media vaulting, and automated workflow solutions.
For more information about services available through ARMS, please call 877-764-2767 or visit https://arms4rim.com/.
View original post on paperless office here.