Industry Leader in Records Destruction Provides Secure Shredding Services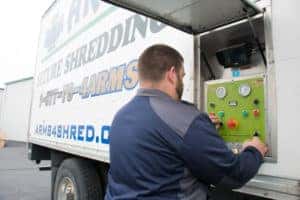 Document destruction has become an integral part of responsible information management in today's age of data breaches and identity theft. That's why companies and organizations throughout the region depend on Automated Records Management Systems (ARMS) for secure shredding services in Green Bay, Wisconsin.
ARMS works with customers to create effective document destruction strategies that leverage the company's shredding services expertise. The result is a cost-effective, convenient solution to protecting the information contained in sensitive documents and other storage media.
"Eliminating the potential for security exposure is what we're all about," said Eric Haas, president and CEO at ARMS. "Our customers depend on us to provide industry-leading shredding services in Green Bay, Wisconsin, and beyond."
ARMS also prolongs the life of information and enhances the ability for leaders to quickly find it with services such as document scanning and microfilm digital conversion.
Assume All Documents Hold Sensitive Information
Businesses and organizations generate tons of documents every day that contains sensitive information. Failing to properly dispose of documents, that are no longer needed, opens the door to possible security breaches.
"Some organizations make the mistake of thinking only a portion of their information deserves the extra attention that secure shredding services provide," Haas said. "It is better to play it safe, since there likely is sensitive information in a wide range of documents and electronic media. Our processes help businesses and organizations remove any potential for exposure."
ARMS's process features secure onsite bins and shred trucks that provide an enhanced level of secure shredding services. ARMS provides two types of locked collection receptacles that feature deposit slots. The smaller of the two models blends in with your other office furniture, while the larger models resemble the bins used by many communities for household recycling pickup. Referred to as toters, these blue units are available in 65-gallon and 95-gallon sizes.
The ARMS mobile service driver empties the contents of the receptacle into the shredder on the truck, scans the barcode and obtains a confirming signature from the client. The scanner also captures details such as date, time, and how full the receptacle is. Customers then have access to an electronic certification of destruction within 48 hours.
Full-Service Information Management and Destruction Services
ARMS is an industry leader in records and information technology solutions, providing organizations "best practice" consulting in the Green Bay, Wisconsin, area and across the United States. ARMS is an SSAE 16-audited company that meets today's information regulatory requirements such as HIPAA, HITECH and FACTA. Services include traditional document storage, certified information destruction, data protection and media vaulting, and automated workflow solutions.
For more information about how ARMS can serve as your organization's shredding services provider, please call 877-764-2767 or visit https://arms4rim.com/.