Marquette University to Honor Fox River Fiber's Archambault With Alumni Entrepreneur Award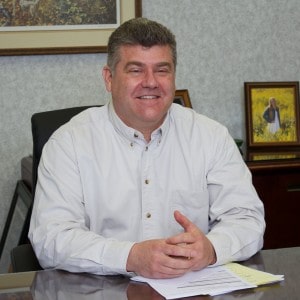 DE PERE, Wis. – Gregory Archambault, President and Chief Executive Officer of Fox River Fiber Company, will receive the Helen Way Klingler College of Arts and Sciences Entrepreneurial Award during Marquette University's All-University Awards Dinner April 26 in Milwaukee.
A native of Peshtigo, Wis., Archambault graduated from Marquette in 1981 with a Bachelor of Science degree and has been the CEO at Fox River Fiber for the past four years. Fox River Fiber is an industry leader in the de-inking of post-consumer wastepaper and turning it into high-quality pulp. It is one of the only suppliers of FDA-grade recycled pulp in the United States.
"I am honored to be receiving this award, which I believe is a reflection on the quality team we have assembled at Fox River Fiber," Archambault said. "We are a principles-based organization that provides opportunities for associates to attain their ultimate potential through additional education and training. We set our people up for success and then let them do their jobs."
Archambault is a strong believer in the value of higher education, providing avenues for Fox River Fiber associates to pursue college educations and enhance their skill sets.
"Whether they continue to work at Fox River Fiber or find opportunities elsewhere, I believe in the value of creating opportunities for people to enjoy the benefits of additional education," he said.
Fox River Fiber earned the Best Places to Work award from the Pulp and Paper Manufacturers Association in 2013 and the Business Friend of the Environment award from Wisconsin Manufacturers & Commerce in 2011. Archambault is an executive committee and board member for the Wisconsin Paper Council.
Archambault led Fox River Fiber's recent decision to invest $7 million in a wastewater pre-treatment facility designed to reduce the company's carbon footprint. The on-site anaerobic digesting system creates cleaner industrial wastewater from the facility.
"This green way of running a business follows a belief that as long as we're doing things well environmentally, success will follow," Archambault said. "Fox River Fiber has enjoyed consistent growth over the years, and one of the reasons is because we have embraced new technology like this anaerobic digesting system.
"The system will reduce our biological oxygen demand by 80 percent, and it's a technology I've been working on for close to 15 years."
Archambault credits the networking opportunities he enjoys through the Marquette Alumni Association for providing input that helps him grow as a leader. He participates in Marquette CIRCLES, which connects alumni, parents and friends doing business or providing services in a variety of industries, as well as TEC 13, a peer-to-peer organization for CEOs, business owners and executives.
"The advice and knowledge of the individuals in these groups has helped me become a better CEO and president at Fox River Fiber," he said.