TourGuide Solutions Offers a Range of Plant Tour Headset Options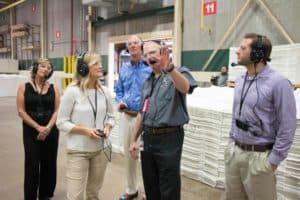 Providing guests with high-quality factory tour headsets has become the norm rather than a luxury for companies committed to leveraging the power of effective communication technology to share their message.
TourGuide Solutions, North American's leading provider of wireless plant tour headsets, offers a variety of headset systems for purchase or tour audio systems rental. The Green Bay, Wisconsin-based company specializes in helping customers across the United States and Canada select the appropriate system for their needs.
"Organizations who want to put their best foot forward appreciate having access to a full-range of high-quality factory tour headsets and tour audio systems rental options," said Bridget Pedersen, Event and Marketing Specialist at TourGuide Solutions. "Our TourGuide Solutions experts can help you select the appropriate system and configuration to fit your needs."
Sennheiser 2020
TourGuide Solutions is the recognized North American distributor for this premier factory tour headset. Known for its ease of use and unmatched sound quality, Sennheiser's stethophone headset design features a built-in lithium battery for up to eight hours of use.
Click here to learn more about the Sennheiser 2020.
Williams Sound Digi-Wave
Manufactured by Williams Sound, the Digi-Wave features a lightweight plant tour headset transceiver and receivers that allows multiple tour guides and guests to interact with a push of a button. It is an ideal choice for tours that require two-way communications and encourage interaction or smaller groups such as management factory floor walkthroughs.
Click here to learn more about the Williams Sound Digi-Wave.
TGS-900
TourGuide Solutions' own tour headset model offers a modest price point with audio quality appropriate for companies that operate at lower noise levels or need to conduct more than six tours at one time. Range, compact size and the ability to use up to 25 channels are the primary benefits of the TGS-900.
Click here to learn more about the TGS-900.
Listen Technologies
The Listen Technologies plant tour headset model features single-channel transmission capabilities and multiple receiver headphone options. In addition to its budget-friendly status, the system is designed for use in assistive listening environments.
Click here to learn more about the Listen Technologies system and watch for updates on the recently launched ListenTalk two-way tour guide system.
About TourGuide Solutions
TourGuide Solutions is an affiliate company of OwnersEdge Inc., a 100 percent employee-owned ESOP holding company based in Brookfield, Wisconsin. TourGuide Solutions, founded in 1998, provides a wide range of Fortune 500 companies with audio equipment to usher guests through live, interactive plant tours. Its clients include Toyota, Nestle, Coca-Cola, Kellogg's, Whirlpool, John Deere and P&G. TourGuide Solutions represents a wide array of product lines, including Sennheiser 2020, Williams Sound Digi-wave, Listen Technologies and its own TGS-900.
TourGuide Solutions offers warranty protection, with post-warranty care standard with every purchase. Next-day service is available to locations within the United States. Call 877-204-0225 or visit http://tourguidesolutions.com for more information about TourGuide Solutions products or to request a quote.
View original post on factory tour headsets here.