Benefits of biophilic design
By Scott Hamele, DBIA President and founder of Construction DesignWorks, LLC and Nationwide Commercial Inspections, LLC
Out with the new, in with the old. Yes, that's right. We can learn a thing or two from architectural design from as far back as 600 B.C. The Hanging Gardens of Babylon are considered one of the seven wonders of the ancient world. It was a true wonder and remarkable feat with a rising series of gardens alongside a great palace.
It was meant to combine the building with nature. In modern times it is when a contemporary office remodel incorporates occupancy connectivity. The current term for this is biophilic design.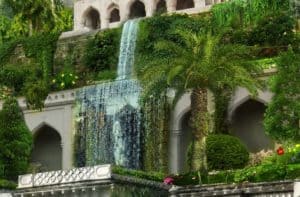 Biophilic design is a concept used within the building industry to increase occupant connectivity to the natural environment through the use of direct nature, indirect nature, and space and place conditions. Used at both the building and city-scale, it is argued that this idea has health, environmental, and economic benefits for building occupants and urban environments, with few drawbacks.
Although its name was coined in recent history, indicators of biophilic design have been seen in architecture from as far back as the Hanging Gardens of Babylon mentioned above.
When planning a construction renovation, a principal objective of the building owner is a successful guest experience-driven tenant improvement. One way to be effective is with biophilic design, but first we need to understand biophilia. Biophilia is an intrinsic connection between people and nature. A couple examples are how a crackling fire, soothing wind through leaves, and crashing waves captivate us and have healing effects.
Five ways to introduce nature into your space when doing a contemporary office remodel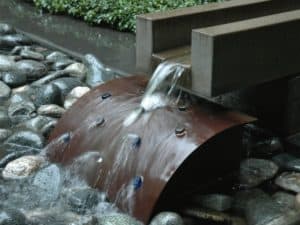 Water
The presence of water will enhance the user experience by seeing, touching and hearing the water. It's been long known for its calming effect.
Air
Making small changes in the air temperature, humidity and even the air flow that imitates the natural environment offers soothing feelings.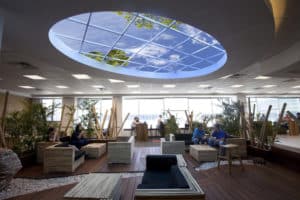 Light
Introducing varying changes in lighting and shadows throughout the day offers a simulated nature familiarity. This offers comforting results.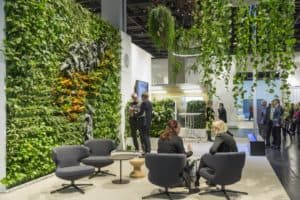 Living Systems
There may be no better way to offer the experience of nature than to include living walls, plants and trees all throughout the space. The results will reduce stressors and increase positive physical responses.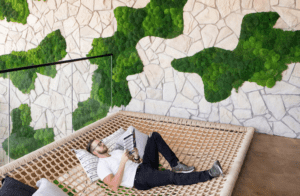 Sound
Providing the sounds of nature such as blowing wind, the pitter-patter of a light rain and birds chirping have been known to reduce your blood pressure and ease the stress of the listener.
A biophilic design will heighten clarity of thought, reduce anxiety, improve physical and mental well-being as well as speed up the healing process. All owners should consider this as it will augment the beauty of your workspace all the while improving work production as a result of healthier and happier employees and customers. It's a worthy investment if you are planning to do office remodeling.
About Construction DesignWorks, LLC
Construction DesignWorks uses its hands-on approach and design and construction expertise to create and develop a winning design-build team that is specialized for each customer. Their complete turnkey building solutions align with the unique business needs of various types of real estate. Construction DesignWorks, LLC is located at 6657 Woodland Drive in Shawnee, Kansas. If you are looking to do a contemporary office remodel in Kansas City or for more information about interior design-build, call (913) 745-4727 or visit their website http://constructiondesignworks.net.
View the original post on contemporary office remodel here.
Tags: contemporary office remodel in Kansas City, corporate office design ideas, commercial office design ideas