Plain Jane Coin Pusher With Built-In Bill Changer Offers Low-Maintenance Fun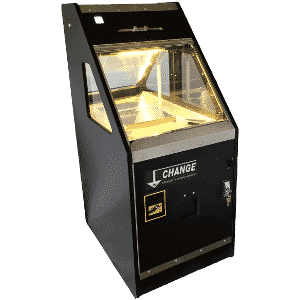 Game machines that feature low maintenance and a high level of reliability continue to earn popularity points despite the assortment of high-tech game machines on the market. 8 Line Supply finds that 8 liner games and coin pushers, such as the Plain Jane Coin Pusher with built-in bill changer, maintain their status in the entertainment realm by virtue of their ease of operation for owners as well as players.
"Game machines with a high level of reliability will always have a place among quality gaming entertainment options," said Matt Murphy, sales and inventory manager at 8 Line Supply, a leading distributor of premium gaming, amusement, coin-operated machines, accessories and parts. "Coin pushers are examples of a simple technology that attracts players and generates a quick return on investment."
The Plain Jane Coin Pusher with built-in bill changer is an ideal choice for game rooms, gas stations, restaurants, taverns, grocery stores and shopping centers. Lighting customization is available to create a more attractive visual presence, and multiple sensors and alarms prevent cheating.
Plain Jane Coin Pusher Appeals to Players and Owners
The Plain Jane Coin Pusher's one sliding player-controlled coin chute is a primary attraction for players because of its simplicity. A skill button that quickly starts and stops the coin pusher tray and the ability to get change up to $20 for coins without leaving the machine also makes the machine a natural draw.
Operators love the game's low maintenance and ease of operation thanks to a convenient 500-note bill stacker and coin in, coin out configuration. The long-lasting LED lighting contributes to the machine's reliability, and the coin chute is designed to only accept quarters. Other coin chutes are available to accept coins and tokens of various sizes.
About 8 Line Supply
8 Line Supply is a leading distributor of 8 Liner, Cherry Master, Pot-O-Gold and Coin Pusher amusement and gaming machines. In addition, 8 Line Supply provides a full line of accessories from top brands in the industry including game boards, LCD monitors, bill acceptors, harnesses, power supplies and more for customers throughout North America and around the world.
Customers are invited to place orders at http://www.8linesupply.com, call 920-347-0333 or visit the 8 Line Supply retail location at 1116 Honey Ct. in De Pere, Wisconsin.
View original post on 8 Line Supply coin pusher here.