Engineering and Manufacturing Solutions Provider Offers Services Beyond Traditional Metal Fabrication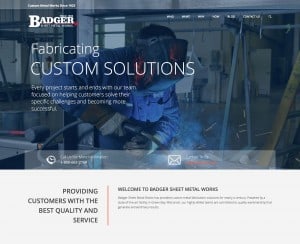 GREEN BAY, Wisconsin – Badger Sheet Metal Works, an industry-leading design and manufacturing solutions provider, has updated its website to highlight the company's wide range of metal fabrication capabilities. Found at https://www.bsmw.com/, the new Badger Sheet Metal Works website provides visitors with a comprehensive look at the company through text, images and video.
"Our name is based in our historical roots, but we are so much more today than a metal fabrication shop," said Sam Thomas, Vice President of Operations. "We updated our website to show how we have evolved into a world-class custom and OEM metal fabrication partner for a wide range of industries."
The Badger Experience
The more than 100 employees at Badger Sheet Metal Works use a collaborative model that ensures customers are part of the job flow. This high level of communication creates a true partnership relationship that ensures accuracy at each stage of a project. Badger Sheet Metal Works' trained technicians and fabrication specialists serve as an extension of customers' subject matter experts. The Badger process features built-in hold points for quality inspections that confirm timelines remain on track.
The company's state-of-the-art facility features two 70 x 320-foot bays, offering ample space to deliver turnkey projects. Four cranes produce a total lifting capacity of 32 tons with a 22-foot under-hook height.
Badger Sheet Metal Works has expertise and equipment for a variety of fabrication tasks, including:
Assembling
Bending
Cutting
Painting
Rolling
Welding
In addition to traditional sheet metal fabrication, Badger teams work with large fabrication projects, heavy-plate fabrication and stainless steel. "We have developed expertise in the fabrication of stainless steel containers used in the food and dairy, and pharmaceutical industries," Thomas said. "Our production facility features a clean environment that meets stringent 3-A Sanitary Standards."
For more information about Badger Sheet Metal Works, call Sam Thomas, Vice President of Operations, at (920) 435-8881, or visit https://www.bsmw.com/ .
View original post here.