ARMS Offers Physical Storage for Disaster Recovery Services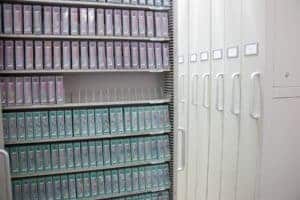 Backup rotation and storage for physical assets has become a mandatory component of corporate disaster planning. ARMS Inc. works with organizations to design strategies that leverage its offsite physical storage options and ensure the recovery journey is a process rather than a worst-case scenario.
Backup rotation strategies typically involve multiple tapes, hard drives or other physical media, sometimes a different one for each day of the week for daily backups. Traditional offsite storage also is utilized by organizations that depend on physical media or documents to power disaster recovery kits.
"The philosophy behind backup rotation is to secure your data offsite so if something happens at your primary location, you can access your data and utilize it to restore your system," said Eric Haas, president and CEO at ARMS. "Disaster recovery kits often are designed to serve as a short-term bridge from a business continuity position."
Disaster recovery kits can include items such as original software licenses, vendor lists, payroll information and other information that enable a business to resume operations as quickly as possible, at least on a limited basis.
ARMS, a trusted provider of document storage and hard drive destruction services in Appleton and Green Bay, stores customers' physical assets in a climate-controlled vault complete with fire suppression capabilities and 24/7/365 access. Vault management software gives organizations the ability to manage their offsite rotation of media.
"Think of backup rotation as a relatively inexpensive insurance policy for your data," Haas said. "The preferred methodology is daily backup, but some organizations do it less often than that. The objective is to minimize risk by implementing a backup rotation that makes sense for your business."
Full-Service Information Management and Destruction Services
ARMS is an industry leader in records and information technology solutions, providing organizations "best practice" consulting in the Green Bay, Wisconsin, area and across the United States. ARMS is an SSAE 16-audited company that meets today's information regulatory requirements such as HIPAA, HITECH and FACTA. Services include traditional document storage, certified information destruction, data protection and media vaulting, and automated workflow solutions.
For more information about how ARMS can serve as your organization's provider of backup rotation, please call 877-764-2767 or visit https://arms4rim.com/.
View original post on backup rotation in Green Bay here.