ARMS Inc. Goes Beyond Paper Shredding to Provide Comprehensive Service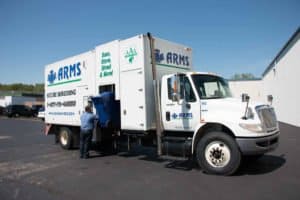 Equating the breadth of services offered by ARMS Inc. to other paper shredding companies is like comparing the strength of a lion to a house cat. It simply is not a fair fight.
ARMS has forged a reputation as a leader in records and information management services. Our core business services provide clients with security, compliance and information controls. ARMS provides more than just paper shredding and recycling services. ARMS is AAA NAID (National Association of Information Destruction) Certified for hardcopy, hard drives and micro-media which is audited by an independent third party to ensure regulatory compliance with laws such as HIPAA HITECH, Gramm Leach Bliley and FACTA. Our destruction process reinforces our commitment to protect our customers from identity theft and breach of their confidential information.
"To say we are just one of the area's paper shredding companies is not accurately characterizing our business," said Eric Haas, president and CEO at ARMS. "We provide a service that mitigates risk not unlike insurance for all business types and sizes. Our Certified Mobile On-Site Destruction Services and CSR Breach Reporting Service support a customer's privacy. When it is deployed correctly, these will protect them from regulatory fines and penalties that can cripple a business of any size."
ARMS' process includes providing lockable security containers and servicing them on a scheduled basis. Upon completion, ARMS will issue a Certificate of Destruction to keep for the customer's legal records. Our certified destruction process by NAID addresses information security, documented compliance and information control which provides our customers a higher level of security than simple recycling or self-shredding.
"ARMS works with customers to establish best practice guidelines that remove the opportunity for risk exposure," Haas says. "Shredding companies need to stay one step ahead of information thieves, and choosing one with an audited certified information destruction process demonstrates smart business practices. Put it this way, do you want to protect your business with a house cat or a lion."
Full-Service Information Management and Destruction Services
ARMS is an industry leader in records and information technology solutions, providing organizations "best practice" consulting in the Green Bay, Wisconsin, area and across the United States. ARMS is an SSAE 16-audited company that meets today's information regulatory requirements such as HIPAA, HITECH and FACTA. Services include traditional document storage, certified information destruction, data protection and media vaulting, and automated workflow solutions.
For more information about how ARMS can serve as your organization's paper shredding provider, please call 877-764-2767 or visit https://arms4rim.com/.
View original post on shredding companies here.