Design-Bid-Build is Not a Good Fit for Commercial Tenant Finish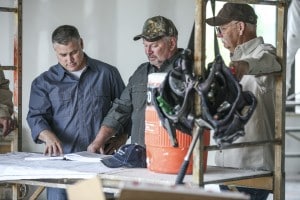 KANSAS CITY, MO- The concept of design build (DB) has been around for centuries. In fact, it has been around much longer than the design-bid-build process that is so popular today. "DB lost favor with the public over a century ago when lobbying efforts by Architects Associations became powerful enough to sway customers into believing the design-bid-build process was superior," says Scott Hamele, President of Construction DesignWorks, Inc. " If you have a budget and a schedule to live with, which most of us do, then design-build is the way to go."
One Responsible Party
General Contractors (GC) are typically responsible for 100% of the construction costs of a project. It makes reasonable sense to then incorporate the design into their scope of work that results in one responsible party. Whether or not the GC has an in-house architect or subcontracts out these services, the GC becomes the single point of contact and responsible party to insure the project is designed and built to meet the expectations of the client as well as stays on budget.
Design
A design build process allows the creativity and expertise of the architect and the GC's construction and job costing experience to provide a smooth project for the client. The architectural elements are fine-tuned with the help of the pricing feedback of the general contractor during the design phase.
Schedule
Most design-bid-build projects require a period of time after the bidding process to allow for the General Contractor(s) to provide value engineering ideas. These are cost saving ideas that the GC's and their subcontractors come up with as alternate design elements. In the design-build process, this value engineering is done during the design and not after a laborious bidding process. It can save weeks if not months of time.
Change Orders
Clients hate change orders. Architects do not like them. Believe it or not, General Contractors despise them. GC's do not like to see clients shell out extra money for things that should have been incorporated into the design from the beginning. There are always unforeseen elements that require change orders, especially in remodels. However, design-build historically reduces change orders as it incorporates the design team, general contractor, subcontractors and suppliers' experience and resources into the design process. Thus weeding out flaws in the design and narrowing down options.
Construction DesignWorks uses its hands-on approach and design expertise to create and build professional interior spaces specialized for each customer using the design build method. Their complete turnkey project management solutions align with the unique business needs of various types of real estate. Construction DesignWorks, Inc. is located at 21961 West 83rd Street in Shawnee, Kansas. For more information, call (913) 745-4727 or visit their website at constructiondesignworks.com.
View original post here.